Many SEO solutions exist to list the backlinks of a domain name: Majestic, Moz, Semrush, Ahref, Google Search Console …
Oseox LINK offers 2 solutions to import backlinks, via a simple copy and paste or via a text import file.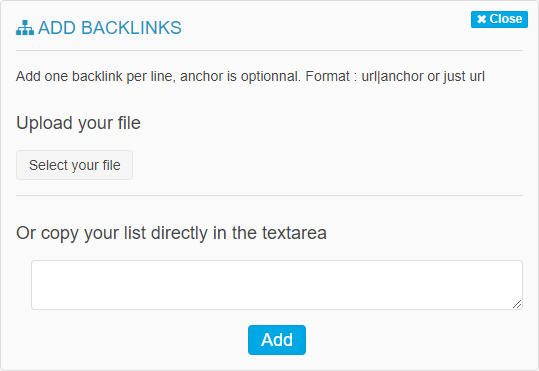 The format of the import file is a text file:
1 line per backlink containing just the URL
or
the URL, the character | then the expected anchor.
examples
https://oseox.com/seo/
http://oseox.fr/learn-seo/
or
https://oseox.com/learn-seo/|learn seo
https://oseox.com|seo tutorial
How to sort your backlinks
However, you will find that a significant number of backlinks from these tools can be directly in error.
It would be necessary to deal with each case, which can be tedious.
Here is how to sort your backlinks before importing them and thus limit the notifications of the first crawl
Crawl the pages containing the links and directly remove everything that is not in 200
Remove all backlinks with very low/zero domain authority
Remove all backlinks whose domain name you do not trust
Delete all backlinks whose domain name seems to be in a language not handled by your site
It is recommended to spend some time on the initial configuration in order to have a clean monitoring.
It is also possible to progressively update the monitored backlinks every day according to the errors that come up.
My favorite process is:
Export all backlinks via your favorite tools  and deduplicating
Delete all when Trust Flow = 0
Delete everything in nofollow
Quickly look at what's left and remove what's suspicious (probably BL with TF 1).
Copy the list of BLs and paste into a crawler
Exporting what's in HTTP 200
Put in Oseox LINK
Wait for a crawl and delete every BL in error